Tell it to the Bees
Tell it to the Bees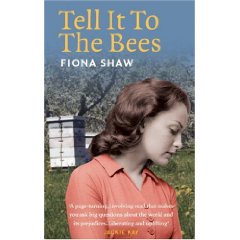 A secret love which has a whole town talking… and a small boy very worried
Lydia Weekes is distraught at the break-up of her marriage. When her young son, Charlie, makes friends with the local doctor, Jean Markham, Lydia's life is turned upside down.
Charlie tells his secrets to no one but the bees, but even he can't keep his mother's friendship to himself. But people don't like things done differently. As Lydia and the doctor become closer, the rumours start to fly and threaten to shatter Charlie's world.
Tindal Street Press, 2009
Buy Tell it to the Bees from amazon.co.uk
 'The town was so small, just a dent in the landscape. Charlie could have held it in his fist.'
Watch the video of Fiona reading from the first chapter of Tell it to the Bees
Watch Fiona in discussion with Emma Donoghue at the Edinburgh International Book Festival 2010 for a session titled 'Love and Trauma through a Child's Eyes'.
Tell it to the Bees is now a feature film, starring Anna Paquin, Holliday Grainger, and newcomer Gregor Selkirk. Premiered at Toronto Film Festival, 2018. Trailer here
Reviews
'Emotionally charged and compelling, Tell it to the Bees draws you into its world, a rich world of secrets and passion, a child's world, and an adult's world, Fiona Shaw creates brilliant characters who stay with you long after the book is finished. Charlie is a brilliant invention, he bursts out of the pages, so real you can see the enthusiasm on his boy's face.  This is a page-turning, involving read that makes you ask big questions about the world and its prejudices. I got so involved in the book that I was worrying for the characters.  A story of love and and betrayal, Tell it to the Bees is a liberating and upflifting  read; it draws you back into the homophobic world of the fifties, and finally releases you from it.'
Jackie Kay
'It gripped me like a vice, and I stopped doing anything else to get to the end.'
Andrew Davies
'It's a small town in the 1950s and tongues are soon wagging. Shaw's writing is lovely: elegant, subtle and haunting. '
The Times
'Tell it to the Bees is an affecting portrait of 1950s Britain, as seen through the eyes of Dr Jean Markham, an unmarried GP… [it] powerfully exposes the wrenches of prejudice. It is a tender and unlikely page-turner'
Financial Times
'A memorable evocation of an era when homosexuality was a crime and abortion illegal. One senses a committed and thoughtful writer intent on using her gifts. It will be interesting to see what she does next.'
Times Literary Supplement 
'This [book] has echoes of Revolutionary Road… Delicate, but feistily written.'
Elle