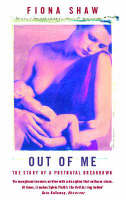 Fiona Shaw has a loving husband, a dream cottage in Yorkshire and has just given birth to her second child. Ten days later she is hospitalised in a psychiatric unit suffering from a severe postnatal breakdown.
This is the compelling account of Fiona's hellish descent into postnatal depression. In a book which has drawn comparison with Sylvia Plath's The Bell Jar, she attempts to piece together her shattered identity in a testimony that is both intensely personal yet strangely objective.
The journey takes her back to a childhood where she felt she was always the outsider. It is a story of terrible, almost fatal despair but finally one of survival, reconstruction and understanding.
Virago Press, 2001
Buy Out of Me from Amazon on Kindle now
Reviews
'An exceptional memoir, written with a discipline that outfaces chaos. At times, it makes Sylvia Plath's The Bell Jar ring hollow.'
Kate Kellaway, The Observer
'The hell Fiona Shaw describes in this extraordinary testament does have an exit, but she had to make it out of thin air…She remade herself memory by memory, word by word. Her doctors were wrong to dismiss her writing as a harmless hobby.'
Maureen Freely, The Guardian
'Stark and subtle … She never gives up on her heartfelt wish to be accurate about the kind of emotional turbulence that renders us unintelligible… Out of Me is a quest, and request … for new ways we can look after each other. For new ways of writing.'
Adam Phillips
'Fiona Shaw's triumph is twofold: she has managed to both externalise and universalise her private hell, so that the book can fit next to An Angel at my Table and The Bell Jar'
Bel Mooney, The Times
'The terrifying clarity of her words transports you into the skewed world of a desperate child where the line between real and pretend becomes blurred. It is here we see the root of Shaw's terrifying ability to disassociate from herself and gain an insight into a bizarre psychic splitting process that can occur under extreme emotional stress. Perhaps, Shaw wonders, her breakdown came when it did because at last she was in a safe, loved enough place to allow it to happen. Out of Me explores themes of memory and identity, the fragile, fallible structures upon which we base our selves. It is a story of terrible, almost fatal despair but finally one of survival, reconstruction and understanding.'
Rebecca Johnson, amazon.co.uk
'Her brave book is hugely valuable…'
Independent on Sunday